The main learnings from the World Bank's Conference on Artisanal and Small-Scale Mining (ASM) post Covid-19, held on the 6th to 7th of December in Nairobi
"Business unusual?" was the main question asked at the World Bank's Conference on ASM post Covid-19, held in Nairobi on the 6th and 7th of December. Though the question might as well have been "unusual business?" – and the answer would undoubtedly be: "yes, indeed".
The Impact Facility team was invited to participate – and contributed to the fold of various creative and innovative approaches to governing the ASM space. The main purpose of the conference was for a variety of stakeholders to share knowledge and experiences about how the Covid-19 pandemic has impacted the ASM sector and how to navigate an obviously different space from that which we knew before.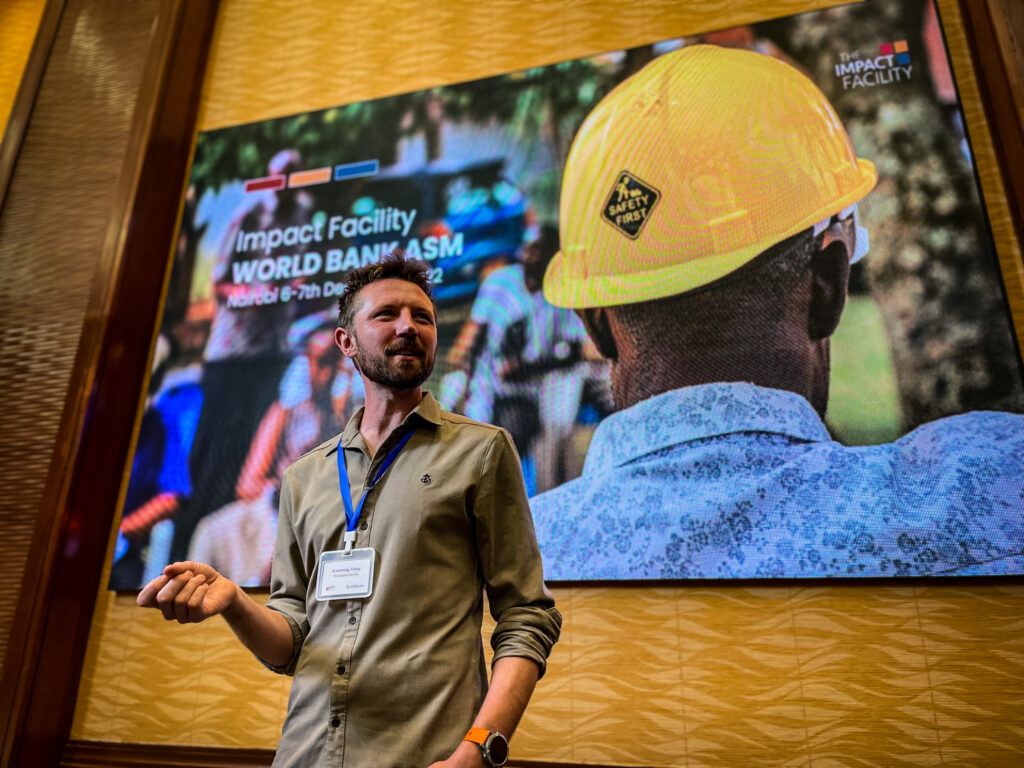 Our Lead Programme Manager of the Lake Victoria Gold Programme 2030 (LVGP2030) David Armstrong Finlay held a presentation on TIF's lease-to-own model before an audience of miners from all over the world, development practitioners, and academics. © Photo by Gustav Dahlqvist
The Emergence of Access to Finance
One central theme was how the global community can engage meaningfully with Artisanal Mineral Producers (AMPs) around the world – beyond sole formalisation and legalisation efforts. To understand this largely informal sector better, many initiatives of the recent past have focused on extensive data collection strategies mapping the sector.
While data is needed to design meaningful and effective sector interventions, the conference critically assessed the dynamics around data gathering. To quote our colleague Candice, "what people often forget is that artisanal miners are in the business of mining and not in the business of data collection. Unless we design platforms that provide an intrinsic value to artisanal mineral producers, data collection remains just that, an exercise in futility".
What upstream mine actors almost always reference as "valuable" is long-term partnerships and access to finance.
Prior to this conference, the World Bank conducted research on issues related to, in particular, access to finance. The study showed that 87 percent of global respondents lack access to finance. This is in line with our experience working in Western Kenya, where most miners we engage with have never received formal finance.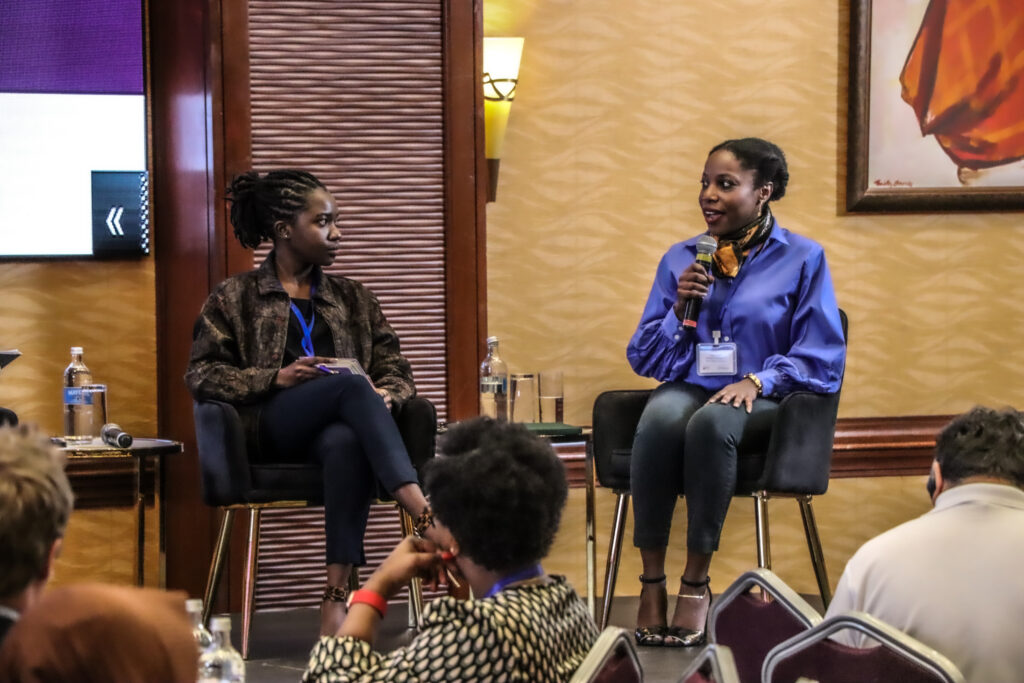 Our Mining Engineer, Candice Jumwa (left) participated in a panel discussion on digital technologies in responsible mining, moderated by Dr. Stacy Hope, the managing director of Women in Mining UK (right). © Photo by Gustav Dahlqvist
ASM post Covid-19
As with most sectors around the world, Covid-19 inflicted severe economic shocks on the ASM space, including fluctuating mineral prices, major increases in prices of mining inputs, equipment and tools, and a decrease in engagement by donors and institutions.
Seemingly, more and more actors in the development field of ASM have transited into flagging the need to foster and facilitate access to finance as a response. Alongside TIF's leasing programme across East Africa, we can most likely expect some substantial changes to the ASM space across the world as access to finance becomes more mainstream.
And crucially so, ASM might, indeed, be an unusual business. Yet – it is a business, nonetheless. The global community must find meaningful ways of engaging with it – and work towards facilitating impact at scale.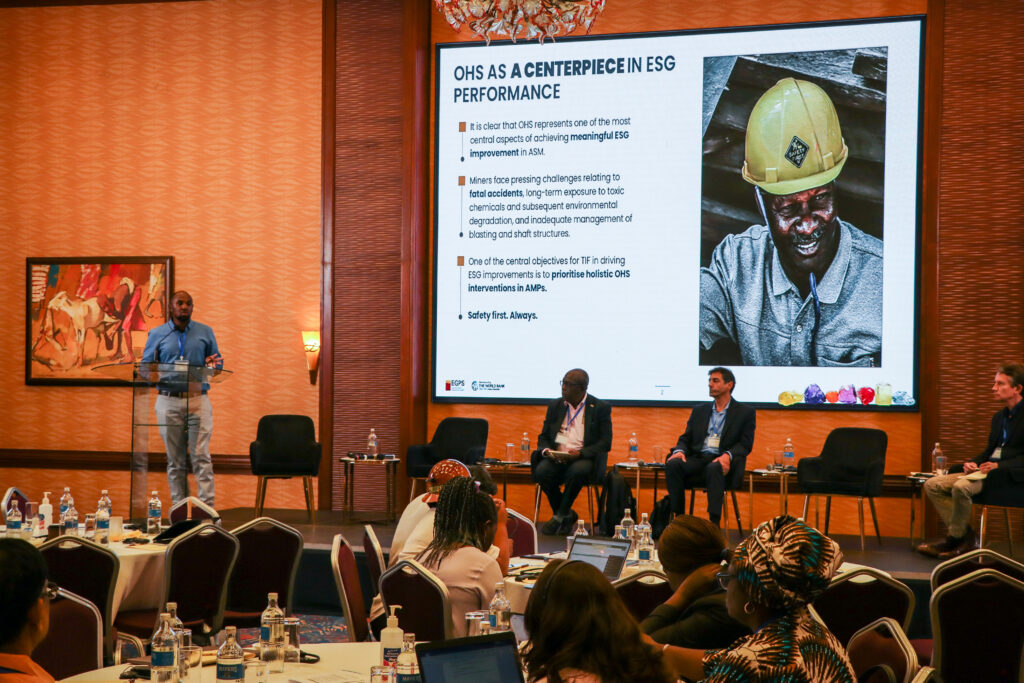 Our Lead Mining Engineer, Cyrus Njonde (left), discussing how Occupational Health and Safety (OHS) must become a centrepiece in Environmental, Social, and Governance (ESG) performance at mines sites, and how the Impact Facility is combining access to finance with collaborations with AMPs in Kenya to improve the health and safety of miners. © Photo by Gustav Dahlqvist