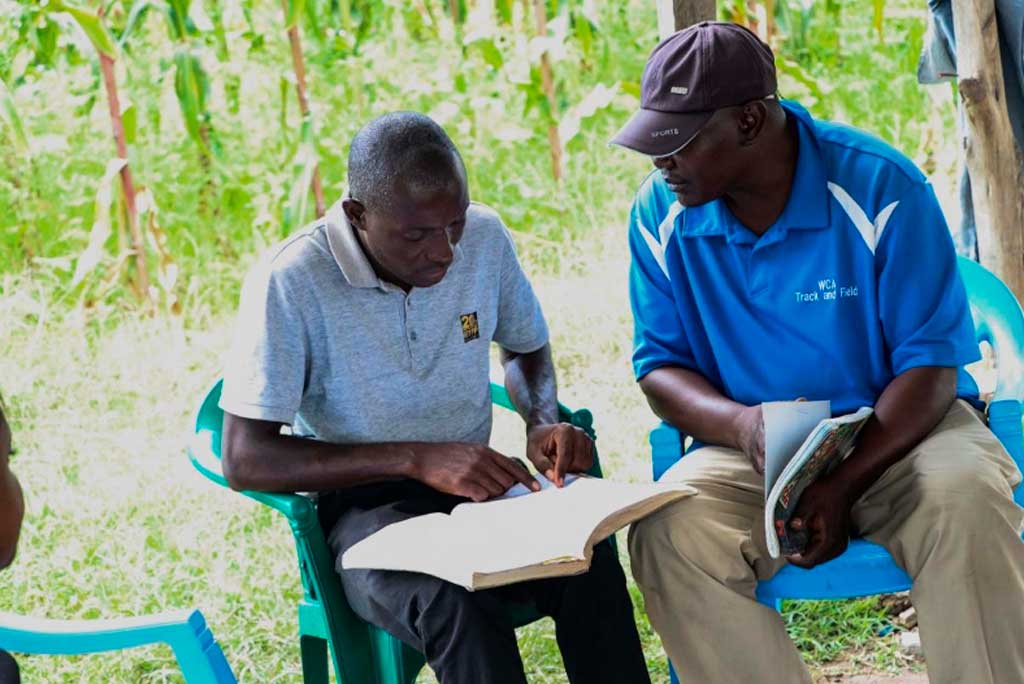 The Impact Facility staff, Augustine conducting mine record keeping assessment in Migori
Over the past two years, we entered a local arrangement with my home shopkeeper where I can pick household goods from his outlet on credit. These are basic items that are used daily which include sugar, salt, soap, tealeaves, tissue paper etc., which I was to pay for on a weekly basis. It would be impossible to keep track of all the items picked on credit in the course of the week, were it not for the diligence of my shopkeeper in noting down each item picked. Assuming that there are more than twenty of us who pick goods on credit from his shop, and he keeps track, that means that he has a book where he puts up an entry for each one of us when items are picked. This is the skill of record keeping.
Such diligence is needed, not only in this local shop, but in all aspects of business. That means that a business can actually suffer losses where and when proper records are not kept. Hence, in a manner of speaking, it goes to show that good and profitable ventures thrive where record keeping and stock taking are prioritized.
Diving Deeper; Mining Business Record Keeping
Most often, ASM miners who live from hand to mouth barely have time to table their daily expenses that enable their recovery of a gram of gold. The irony is that, the gram of gold recovered results in the miners low income due to high expenses incurred to recover it, compared to the final value of the gold. This has resulted in branding the small-scale artisanal sector a "cycle of poverty", as livelihood improvement in these communities often go unnoticed. It is high time we appreciate the role of record keeping, an act I believe can be a game changer.
Mark Twain must have had his bitter share of regret sometime after concluding that "a mine is a hole in the ground with a liar standing right next to it." Indeed, this conclusion only became true if he had realized that there were no records of the mine operations but a mere shafts in the ground.
Mine Record-keeping in Action
In our recent visit to the miners in Migori, Osiri Matanda region, my colleague Augustine and I were intrigued by Mr. David's skills in record keeping since 2019 to date. He is a retired teacher and he took up gold mining as a retirement project since his late father owned a parcel of land with a mining shaft in it. David is now able to delink himself with the day to day operations until the evening where he only needs to go through his books to understand how many miners reported in his shaft, how many bags of ore produced and the possible profit from the bags that remained after sharing some ore with the workers.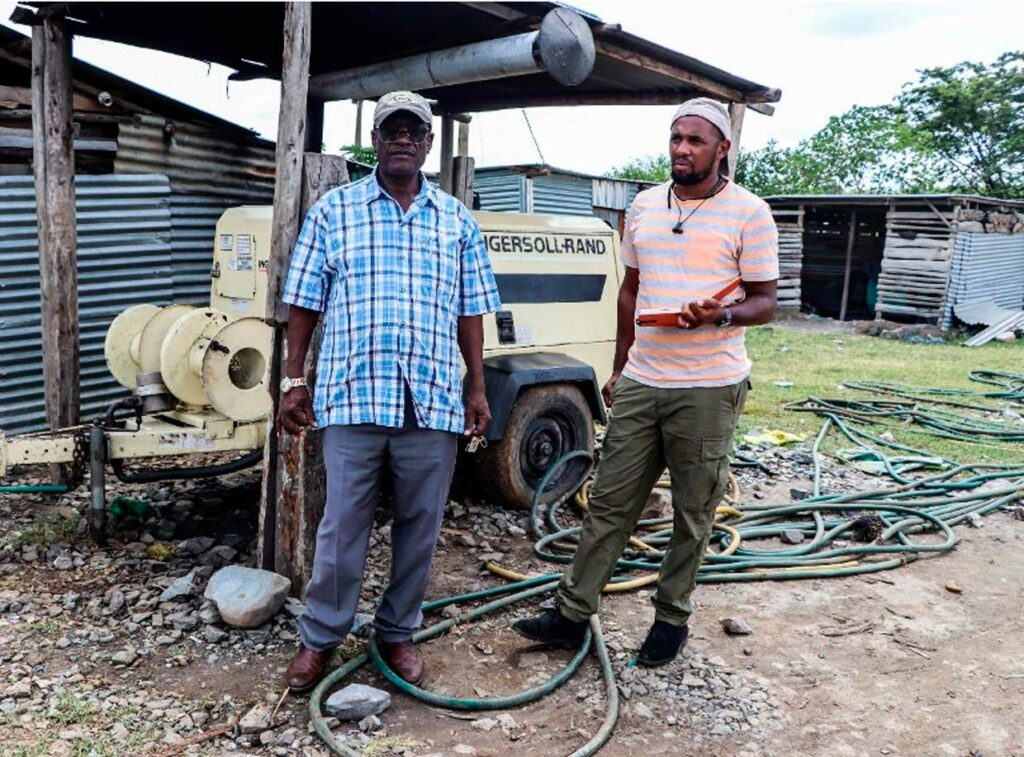 Mr David expresses his equipment need (120KVA Perkins generator) during mine site assessment with technical expert Cyrus Njonde
Mr. David trained his secretary to take the mining business daily records accurately and ensure that no information goes unreported as that was a likely loophole to business loss. There even exists a duty rota for the watchmen who keep guard of the shaft day and night. This means that the records assist in deploying key roles and resources towards the safeguarding of business assets.
In contrast many of the miners we are able to visit have a tendency to not take data-keeping seriously. Many of them, despite fair production volumes and appropriate machinery, were unable to account for their daily expenses., This is perhaps why we get frightened when a mining business collapses overnight; there is a lack of sufficient financial monitoring that would have given an alarm that expenses were tipping the scale thus overcoming production.
Mine Data Keeping is a Key Investment Stimulation
"Investing in mining communities is a risky affair" many will say. Financiers and investors understand well the language of previous experience in any business summarised in form of income and expense sheets, rarely will a miner defend himself with proper operation records.
Formal financial institutions will immediately rule out a business as risky when not convinced through previous data records on the operation of the business. The Impact Facility has always been of the opinion that if the mining activities are fully articulated on paper, the mining business will prove to be profitable and can improve the livelihood of many.
At The Impact Facility, we have not shied away from financing the miners who have met the record-keeping standards that justify investments that would be of value in their operations. The miners receive from our team equipment on a lease-to-ownership basis and make monthly repayments until the ownership is transferred to them. While improving their data-keeping practices, we hope that both the mine operation data and repayment schedules will one day convince other financial institutions of the investability of the space.

Mine production, expenses record, and workers registry written down by a mine record keeper
Financial Literacy Training and Mobile Applications
When we realized the challenges of record-keeping, we took it to ourselves to sensitize and train the miners on how they could capture and store their daily mine records. First, we mapped the potential mine activities that would form the spectrum of standard mine data to include mine production, mine expenses, gold sales as well as workers registry to inform of the mine activity.
Need for customized mobile application for mining to capture data efficiently before closing daily operations
We shared the template for the miners to learn and fill the records on a daily basis. We were also cautious not to disrupt their way of entering data, so we ensured that they captured the information in their books which we could finally analyze and verify. The Impact Facility also believes that some mobile applications would improve the ease and discipline of logging in this information. We recently received a donation of mobile phones which will be used by the next cohorts of miners we plan to finance in equipment.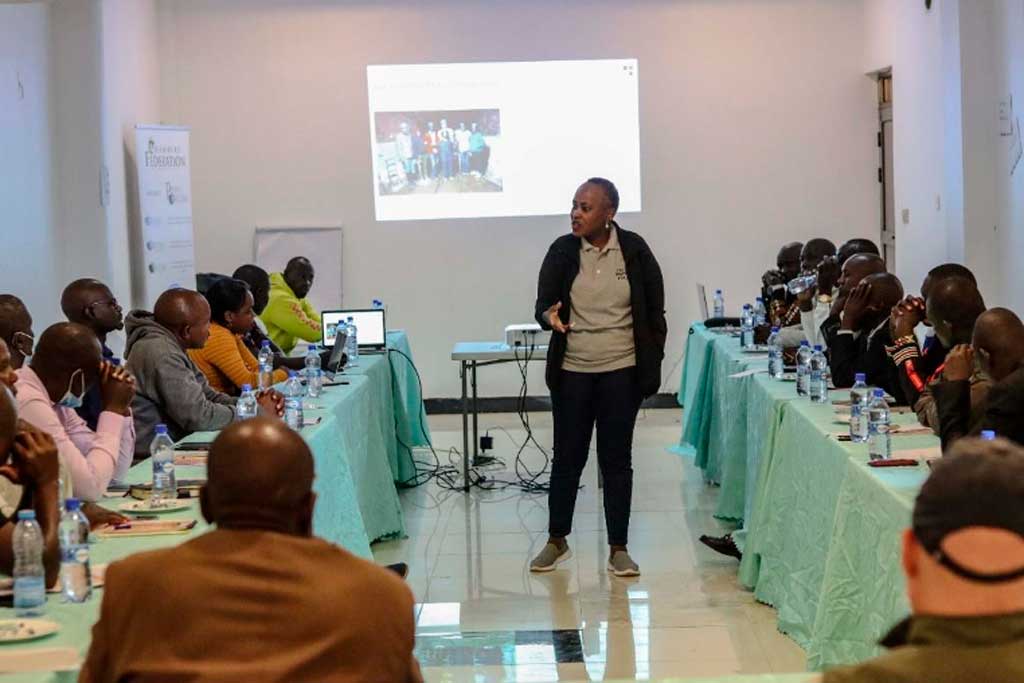 Monica conducting a mine business and literacy round table meeting to investment ready miners in Migori county
Our recent Mining business roundtable meetings dubbed "Your mine, Your business," have focussed on encouraging miners to view their mining operations like a usual shop; where all stocks coming and leaving the shop are properly accounted for, cashflow projected and any loss incurred well mapped to ensure maximum profits are realized.
Finally, let us set the records straight and showcase that artisanal mining can be conducted as any other serious business.